My Experience in Methods Analytics
One of my main reasons for diving into a career within data and technology was to find a challenging, rewarding career, and I found that at Methods Analytics.I have grown immensely over the past three years at Methods Analytics, starting in 2019 as a business administrator, helping set up projects, onboarding contractors, and often sifting through expenses (I found some questionable food choices in expenses). As I was helping with setting up projects, I found myself working in managed services where listening to user experiences, and understanding how healthcare works became interesting to me. Then I transitioned onto my career path of choice, UX/UI Design. During that time, I worked on healthcare and local government projects. I was exposed to challenging projects with constraints and many like-minded people who wanted to do good.
My journey into UX
I'm a creative at heart and a storyteller, but I also love problem-solving. Finding UX was when I discovered that I could combine my passion for visual storytelling and technology. UX could help push boundaries within creativity and change people's lives, even in the smallest of ways. UX design as a profession involves constantly learning. It keeps me on my toes, expanding my knowledge in sectors, products, graphic design, and technology. So, how did I start my path into UX? It took a lot of outside of work time to discover and plan my career pathway and a lot of reading, which is not something I find easy. Picking up a book rather than a Netflix episode wouldn't be my idea of fun.
I went into UX as a junior UX researcher/ designer at Methods Analytics, a hybrid role to become skilled in user research and design fundamentals, then progressed into my current UX/UI role. I'm now a more determined individual, and see the value of learning simultaneously on the job and outside of work. I enrolled on a university-accredited UX course with the UX design institute, so that I could learn theory simultaneously in real-world client work scenarios. As I'm a year into my role, I had to ask myself, "what is the difference between another designer and me?" It's not the design work I do or what projects I am on. It's the way I approach it. I approach design strategy using past experiences and skills from film and TV production roles, and my drive to learn and re-evaluate my approach to problems.
What I love about my job
I am passionate and proactive about driving design thinking within the workplace. Design thinking to me, is a problem-solving approach, combining a user-centered perspective with analytics. Most important in a UX designer's role is to balance a user-centered view with data. I love learning new skills from each project and colleagues within my team. I enjoy the collaboration between multidisciplinary teams and working together to solve problems, and UX is a perfect role for that.
Words of Advice
If there is one piece of advice I can offer to anyone looking at making a career transition, it is to find a community or mentor who will support you during your shift, and I was glad to find both at Methods Analytics. It can be messy, overwhelming, and daunting at times, but you will look back and wonder why you didn't make the jump sooner.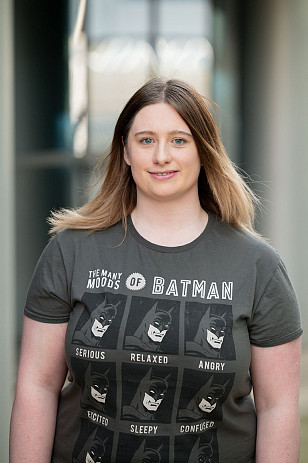 Sara Gulliver, UX/UI Designer